Anti-Israel group makes protest at Scottish Parliament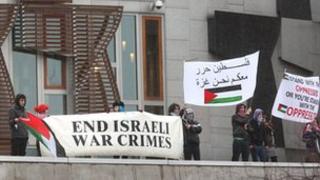 An anti-Israel group has protested at the Scottish Parliament against the first minister's meeting with the Middle Eastern country's UK ambassador.
Members of a group called We Are All Hana Shalabi, named after a Palestinian hunger striker, scaled the roof of the building's entrance.
They demonstrated while Alex Salmond was at First Minister's Questions.
The pro-Palestinian protestors who held up banners came down peacefully. The police detained 10 protesters.
The group were demanding a ban on future visits by Israeli ambassador Daniel Taub, who met with Mr Salmond last month.
During the meeting Mr Taub and Mr Salmond discussed "elements of extreme hostility to Israel in parts of Scottish society".
The two men also discussed possible co-operation between Israel and Scotland, particularly in business, technology, health and renewable energy.
Protester Jack McGinn said: "We thought it was disgraceful that the first minister met with the Israeli ambassador at a time like this, and we would hope that the ambassador will not be invited back to Scotland.
"We think the anti-Israeli sentiment is well founded in Scotland, and for good reason.
"We are protesting against the Scottish government's inaction over the current Israeli atrocities in Gaza and the lack of an acceptable statement that's come from either the first minister, the government or the SNP."
Mr Salmond's meeting with Mr Taub took place about two weeks before the start of the latest Israeli offensive on Gaza, Operation Pillar of Defence, which Israel said was in response to rocket attacks from the Palestinian territory.
The eight days of fighting has killed 161 Palestinians, including 71 civilians, and five Israelis.
Mr Salmond joined international calls for a ceasefire on Tuesday, describing the Israeli bombardment as "heavily disproportionate" and calling for "the illegal blockade of Gaza to be lifted".
A ceasefire was announced on Wednesday night.