Dr Livingstone exhibits go on display at National Museum of Scotland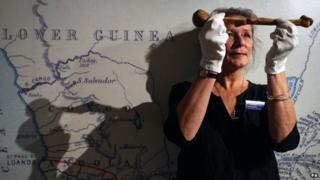 A new exhibition about Scottish missionary and explorer David Livingstone opens in Edinburgh later.
Dr Livingstone, I Presume? features more than 100 artefacts gathered at the National Museum of Scotland (NMS).
On show will be documents and artworks brought together to mark the 200th anniversary of his birth next March.
It even includes the hats Dr Livingstone and journalist Henry Morton Stanley were said to have worn when they had their famous meeting.
Dr David Livingstone was born in 1813 in Blantyre, Lanarkshire.
After qualifying as a doctor, he became a missionary and explorer in Africa where he helped to end slavery, especially in Malawi.
Livingstone's collection
Dr Livingstone was the first European to see the waterfall in southern Africa he named the Victoria Falls.
He went missing on his final expedition, searching for the source of the Nile, and was tracked down five years later by Henry Stanley, who greeted him with the famous words: "Dr Livingstone, I presume?"
Some of the materials on display are objects collected by Livingstone himself, now owned by NMS, such as a weaving loom and artefacts from Africa.
Other objects are on loan from the David Livingstone Centre, the Royal Geographical Society, Glasgow Museums, the National Library of Scotland and private individuals.
Also included are the tools of Livingstone's trade, both as a missionary and an explorer, as well as bank notes, postcards, jigsaws and other items of memorabilia.
Sarah Worden, curator of African collections at National Museums Scotland, said: "Through Doctor Livingstone, I Presume? we're delighted to bring a new focus to the man, the myth and his legacy.
"This exhibition brings together exciting new research, National Museums' spectacular African collections, and Livingstone's personal possessions to recount some of the epic exploration and achievements which led to his rise to celebrity in Victorian Britain."
National Museums Scotland is working with National Museums of Malawi, and with the support of the Scottish government, to create a David Livingstone display in Blantyre, Malawi next year.
The exhibition in Edinburgh runs until 7 April.