Heriot-Watt University 'generates £278m' a year for Scottish economy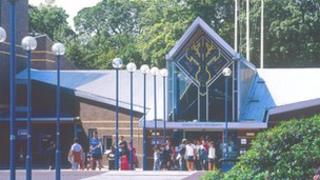 Heriot-Watt University has published economic research claiming it generates £278m in annual output for the Scottish economy.
It also estimates the institution supports more than 6,000 jobs.
Heriot-Watt is based in western Edinburgh with campuses in Galashiels, Orkney and Dubai.
The analysis, which was carried out by Biggar Economics consultancy, also outlines overseas income in the region of £74m.
With foreign student and conference income, as well as selling its know-how, the aim is to double that foreign income in the next seven years.
Including its centre for petroleum engineering, it is reckoned that Heriot-Watt University generates 10% of Scotland's educational exports, while receiving about 4% of Scottish public funding for higher education.
The average Heriot-Watt graduate can expect 14% more lifetime earnings than the average for graduates across other universities, according to the study.
It has worked out that, each year, graduates from Heriot-Watt who live in Scotland earn £166m extra income as a result of having a degree from the university.
The impact analysis covers the university's day-to-day activities, and spending by students, as well as tourism by visitors to the university.
There is also income from the research park, where 440 people work.