Edinburgh Airport marks change of ownership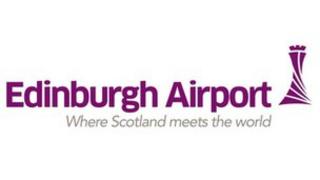 Edinburgh Airport has unveiled its new logo to mark its change of ownership.
The new company brand has the slogan "where Scotland meets the world" and was created by Edinburgh-based Taste Design - a husband and wife team.
The design was chosen by the airport's owner, Global Infrastructure Partners, in a competition run between Edinburgh design agencies.
Airport Chairman Sir John Elvidge said it "opens an exciting new chapter in the airport's history."
He added: "Our new owner, GIP, has a simple investment philosophy which is being applied energetically at Edinburgh.
"It is simply to improve the passenger experience and build growth through existing and new routes, particularly to long-haul destinations.
"It is an exciting time to be part of such important and significant change."
'Refreshing change'
Since GIP acquired Edinburgh Airport in June, the airport has secured six new routes from Easyjet and six new routes from Ryanair.
Virgin Atlantic has also indicated that it will launch Heathrow services from March 2013.
The airport's new chief executive, Gordon Dewar, said: "We take decisions in Edinburgh, and Edinburgh is our only concern.
"That is a refreshing change, and one that excites me, and my team.
"Our vision is to be the place where Scotland connects with the world.
"We want to make passengers' journeys easier and faster, and I am confident we are already making progress and are more hungry for improvement than ever before."