Microwaves used by Queen Margaret University to 'boost' shelf life of food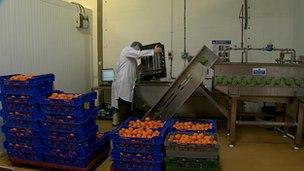 A new way of extending the shelf life of food has been developed by Edinburgh scientists using microwave technology.
Researchers from Queen Margaret University claim the technique could have the potential to "transform" global food manufacturing.
The process has already allowed some businesses to increase production.
It pasteurises by killing bacteria at low temperatures without compromising taste and nutritional value, allowing food to remain fresher for longer.
The project was developed by Queen Margaret University researchers in dietetics, nutritional and biological sciences along with commercial firm Advanced Microwave Technologies Ltd (AMT).
It has been trialled at Stirling juicing firm Get Juiced, who said production more than doubled overnight.
The firm's Paddy Ryan said: "Our retail business was fairly limited and the supermarket chains simply were not interested in listing our products with the smaller shelf-life but this has now completely changed - so much so we have doubled our staffing levels from 11 to 25 people to deal with the increased production and product demand."
Miriam Smith, business development executive at Queen Margaret University, said: "This has been a very exciting collaboration with AMT.
"Following successful results from their commercial trials, manufacturers are now accepting that the AMT machine is a game-changing piece of technology with companies transforming their processing and reaping the rewards."
The university is hoping for further collaborations with other food organisations.
Related Internet Links
The BBC is not responsible for the content of external sites.