Trial told flatmate found Maciej Ciania dead in Edinburgh home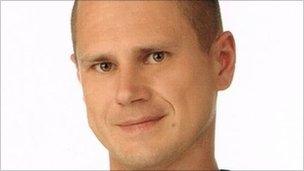 A man has told a court how he discovered the body of his flatmate in a bedroom of a messy flat in Edinburgh.
Darius Reivytis, 29, told the High Court in Edinburgh he found the remains of Maciej Ciania in his flat in Dickson Street on 14 January 2012.
Grzegorz Gamla is on trial accused of repeatedly striking Mr Ciania on the head and body with a knife or knives and murdering him.
The 26-year-old denies the charges against him.
Giving evidence at the second day of the trial on Monday, Mr Reivytis, a Lithuanian immigrant, said Mr Ciania's bedroom was in a mess and there were blood stains in the flat.
Mr Reivytis said he saw a green blanket in the room, when he lifted it, he saw the back of Mr Ciania's head.
The court heard police and paramedics were called to the property shortly after Mr Reivytis discovered Mr Ciania's body.
Mr Reivytis also told the court that he asked Mr Gamla why the house was in a mess and also asked where his flatmate was.
Mr Reivytis said Mr Gamla didn't provide him with an answer.
The trial also heard from Mr Reivytis' partner, Beatriz Del Valle, 26, a Spanish woman who has lived in Edinburgh for the past five years.
Miss Del Valle told the court when she came home on Friday 13 January, she noticed blood stains on light switches.
She told Mr Scullion that she cleaned the fixtures.
When asked by Mr Scullion why she cleaned the switches, Miss Del Valle replied through a Spanish interpreter: "Because I felt very uncomfortable."
Mr Gamla denies assaulting Mr Ciania to his severe injury on an occasion between 1 November 2011 and 31 December 2011 in the city's Kenmure Avenue.
He also denies a second charge which alleges that sometime between 12 January and February 2012, at Dickson Street and Kenmure Avenue in Edinburgh, Mr Gamla assaulted Mr Ciania and repeatedly punched him on the head and body, repeatedly struck him on the head and body with a knife or knives and murdered him.
It is also alleged that Mr Gamla placed a cord around Mr Ciania's neck, wrapped his head and body in tape, removed clothing from Mr Ciania and then placed him in a sleeping bag.
Prosecutors also claim that Mr Gamla then dismantled items of furniture, constructed a box around Mr Ciania and pushed the box against the wall in a attempt to conceal the man's body.
It is also alleged Mr Gamla cleaned blood from the Dickson Street flat in a bid to destroy forensic evidence and then stated to a man called Darius Reivytis he was unaware of Mr Ciania's whereabouts.
Prosecutors said Mr Gamla knew Mr Ciania was dead in a bedroom.
Mr Gamla is then alleged to have removed a pair of tracksuit trousers belonging to Mr Ciania and disposed of them at a flat in Kenmure Avenue.
It is then alleged Mr Gamla travelled to Stranraer, boarded a ferry to Belfast and then travelled to Dublin, where he caught a flight to Poland.
The trial before judge Lord Pentland continues.
Related Internet Links
The BBC is not responsible for the content of external sites.