GPs told 'no available beds' at two Edinburgh hospitals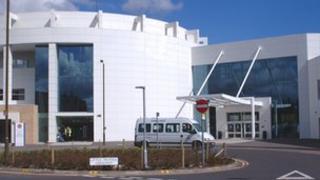 West Lothian GPs have been told there were no available beds for admissions at two hospitals in Edinburgh.
The NHS Lothian chief nurse in the region, Gill Cottrell, wrote a letter "alerting" doctors to the problem at the ERI and Western General.
She also said that St John's Hospital in Livingston was working to create capacity but "currently have very limited beds available".
NHS Lothian insisted there were beds available at the hospitals.
The letter was sent out on Tuesday to all GPs in West Lothian.
It said: "Please can you alert the WL (West Lothian) GP's that ERI and the Western Infirmary have no available beds for admissions and St John's are working hard to create some capacity but currently have very limited beds available.
"The CHCP [Community Health and Care Partnership] is working very closely with the acute side to facilitate discharges."
'Particular moment'
Dr David Farquharson, medical director of NHS Lothian, said: "NHS Lothian would like to reassure patients that there are beds available across all of our hospital sites and at no point have we, or will we, stop admitting patients to hospital.
"We have strict protocols in place to monitor our bed numbers and this can change on an hourly basis, depending on the number of patients discharged and admitted.
"A local email was sent to West Lothian GPs informing them of the pressures on beds at that particular moment.
"This is always a busy time of year for hospitals and the situation is being exacerbated by the numbers of delayed discharge patients and other issues, such as the winter vomiting virus norovirus."