Pawel Rodak sentenced for killing lecturer Roger Gray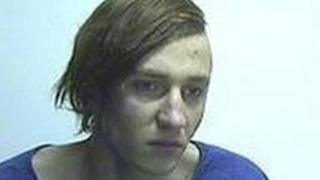 A man who killed a former lecturer in his Edinburgh home has been jailed for 12 years.
Pawel Rodak, 21, was convicted of a lesser charge of culpable homicide after a trial for the murder of Heriot Watt University lecturer Roger Gray.
Mr Gray, 64, was stabbed 114 times after inviting Rodak, who worked as a prostitute, to his home.
Sentencing Rodak temporary judge Michael O'Grady QC called the case "tragic and difficult".
Mr Gray was found dead in his Merchiston Crescent home in March 2011.
The alarm was raised after a neighbour reported a gas leak.
A trial at the High Court in Edinburgh heard Rodak attacked Mr Gray after they had consensual sex.
Rodak claimed his post-traumatic stress disorder had been sparked by Mr Gray slapping him. The 21-year-old told the court he had been raped when he was 15.
He claimed the slap had reminded him of this and that had triggered the violence.
Once he had killed Mr Gray, Rodak left a lit candle next to four gas burners in the kitchen and fled.
He was caught by police after leaving his Polish bank card at the scene.
Mr Gray, who was a part-time lecturer in actuarial mathematics and statistics, died from massive blood loss as one of the stab wounds pierced his heart.
Defence QC Murdo Macleod said: "He (Rodak) has no previous convictions whatsoever. He has always admitted that he killed Mr Gray."
Judge O'Grady said: "Whatever the behaviour of the deceased this evening, he can, in no sense be said to have deserved his fate or brought it upon himself."
He said he had decided against imposing a lifelong restriction on Rodak, but he said his sentence must "afford the public protection" from the killer.
Judge O'Grady ordered Rodak to be monitored in the community for three years after his release from prison.