New probe into 1999 murder of Steven Brown in Tranent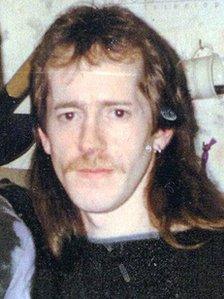 The unsolved murder of a man who was found beaten and stabbed in an East Lothian field 14 years ago is to be reinvestigated by cold case detectives.
The body of Steven Brown, 35, was discovered on ground near Elphinstone in Tranent on 21 February 1999.
Police said they were determined to get justice for the father-of-three and will re-interview key witnesses, speak to residents and revisit some sites.
Crimestoppers has offered a £5,000 reward.
Det Insp Gary Boyd, of Lothian and Borders Police, said people's "personal circumstances and loyalties" might have changed and they may be in a position to help the investigation.
Mr Brown's brothers Colin, 57, William, 48, and Kenneth, 56, said no-one had ever been brought to justice for the killing.
"Steven's murder affected the lives of a lot of innocent people, not least his family," they said in a statement.
"Steven had three daughters, three brothers, a sister, and a mother and a father, and we all deserve to see justice done.
"It has been a difficult time for the family, knowing that there are those in the local community who know what happened to Steven that night.
"It would be a great comfort to us to see the culprits finally convicted, and give our family the closure we so desperately need.
"We are appealing to people in Tranent who have information regarding Steven's murder to contact the police and help us achieve justice."
Witnesses at the time of the murder reported hearing a disturbance in nearby Kerr Road in Tranent at about midnight on the night before his body was found.
A large group of men and women are thought to have been involved, and it is believed Mr Brown was attacked during the incident.
Det Insp Boyd said: "It is now almost 14 years since Steven Brown was murdered and we are determined to bring those responsible to justice.
"We firmly believe that the key to solving his murder lies in the local community, and we are appealing directly to anyone with information to come forward and help Steven's family put his memory to rest.
"We understand that people may have previously been reluctant to approach police with any information they had at the time of his murder.
"However, as time has passed people's personal circumstances and loyalties may have changed, and they may now be willing to share any information they have with us.
"We believe that with the community's help we can finally bring those responsible for Steven's death to justice."
Related Internet Links
The BBC is not responsible for the content of external sites.