Hopetoun House: John Cowan wins damages over bat walk 'ha-ha' fall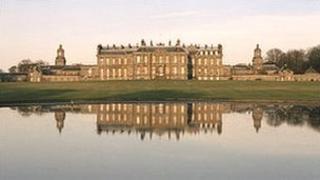 A man who fell into a trench after taking his grandson on a bat walk at an Edinburgh stately home has been awarded £8,750 in damages.
John Cowan said he "stepped over" the edge of an 18th century feature called a "ha-ha" in the pitch black as they returned to Hopetoun House car park.
Mr Cowan, 65, suffered a fractured right ankle and underwent a series of operations.
The incident happened on 5 September in 2008.
Liability contested
Mr Cowan, a former water quality manager who was 61 at the time, raised an action seeking compensation at the Court of Session in Edinburgh against the Hopetoun House Preservation Trust and trustees including the Marquess of Linlithgow.
Damages were agreed at £35,000 in the case, but a hearing of evidence was heard as liability was contested.
A judge ruled that the trust was liable for the accident suffered by Mr Cowan, from Livingston in West Lothian, but that the amount should be reduced by 75%.
Lord Bracadale said: "There is a high level of contributory negligence."
Mr Cowan said: "After I went over the drop, when I sort of came to, my grandson was on top of me."
His five-year-old grandson, Ross, bit his lip in the incident, the court heard.
Mr Cowan, who was recovering from an operation for thyroid cancer, had gone on the organised walk with a group searching for bats armed with a torch as instructed.
He had never been to the historic house, whose construction started in 1699, and was not familiar with the lay-out of the grounds.
"I didn't know what a ha-ha was beforehand," he said. "It was to keep animals from leaving an area in country parks."
Individual instruction
The walk ended at a Ranger's centre and Mr Cowan said he immediately took his grandson to the toilet.
He did not hear any instructions as to how to get back to the car park.
Countryside ranger Peter Stevens said he had gathered all the group inside the centre and gave directions on returning to the car park.
He said he did not notice Mr Cowan and his grandson going to the toilet and, if he had, he would have given individual instruction on returning to the car park.
Lord Bracadale said in his judgement: "I find that the pursuer (Mr Cowan) did not hear these directions, no doubt because he was engaged in attending to the needs of Ross.
"I consider that Mr Stevens must be mistaken in thinking that he had checked everyone was present when he gave the directions."
Mr Cowan ended up walking in the dark on a route that would inevitably take him to the ha-ha at a point where there was a drop of about 5ft.