Edinburgh trams: 350 people apply for just 12 driver jobs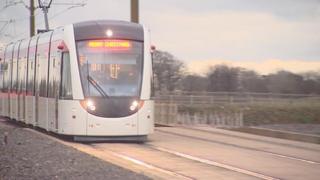 Edinburgh's trams project has received a flood of applicants to drive the vehicles, with 350 people going for just 12 jobs.
Tram drivers, expected to have good "concentration and communication skills", will control the fleet of vehicles in the £776m scheme.
Lothian Buses, the council-owned company which will run the tram network, opened recruitment last month.
Trams are due to run by summer 2014 from Edinburgh Airport to York Place.
The high number of applicants mean 30 people are chasing each job.
'Great opportunity'
The job advert said candidates needed to have the "ability and desire to work safely, be flexible and deliver customer service excellence," as well as "well developed concentration and communication skills."
Tram drivers will start earning between £20,000 and £24,000 a year to operate the vehicles.
Lesley Hinds, Edinburgh City Council's transport convener, said: "I am very pleased to see that so many people have expressed an interest in becoming tram drivers.
"I think that it will be a great career opportunity for those that are successful and I wish all applicants the best of luck.
"The recruitment of tram drivers represents another positive step towards delivering a quality integrated transport service for Edinburgh."