Dozens of pigeons killed in Balerno break-in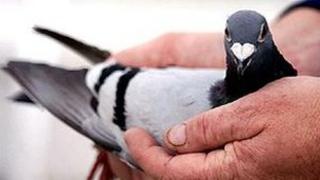 A racing pigeon owner has been left "distraught" after his 55 birds had their necks broken during a break-in.
The pigeons, worth £5,000, were killed in their two lofts in Balerno near Edinburgh overnight on Thursday.
James Dickson, 50, went to feed his birds at an allotment in Malleny Croft, close to Currie Rugby Club, and found them scattered around the lofts.
Mr Dickson, who has been keeping pigeons for almost 40 years, said he did not suspect a rival pigeon fancier.
He said: "I've absolutely no idea who's done this. I can't see it being another fancier. I'm not a big enough threat to anybody, although it is a really competitive activity."
Mr Dickson said he raced his pigeons every week in the summer months.
A Lothian and Borders Police spokesman said: "This is a disturbing incident, not least for the owner of the pigeons who is understandably upset as a result of what has happened.
"We are appealing to anyone who was in the area yesterday evening or overnight who saw or heard any suspicious activity to contact police immediately.
"Likewise, anyone else who has any other information that can assist us in our inquiries should also get in touch."