Garry O'Connor's appeal over cocaine sentence fails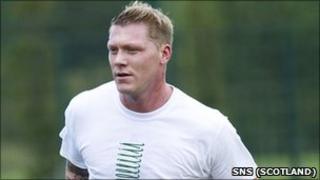 Former Scotland footballer Garry O'Connor has had his conviction for possessing cocaine upheld by appeal court judges.
The striker, who played for Hibernian last season, was found with the drug in Edinburgh city centre in May 2011.
He tried to give a false name and was caught by police as he ran off. He was sentenced to community service.
He challenged the conviction but judges at the Appeal Court in Edinburgh refused his appeal.
His solicitor advocate Simon Collins argued that there was no obstruction of the police and that his arrest for it was unlawful as was the subsequent finding of drugs on him.
But Lord Menzies, who heard the appeal with Lady Smith and Lord Kingarth, said: "We are satisfied that the conduct of the appellant is properly categorised as obstructing and hindering the police officers in the execution of their duty."
The senior judge said that when O'Connor was asked by an officer for his details he began to give "a wrong and misleading name" and pushed past and ran off.
Lord Menzies said that his arrest for contravening the Police (Scotland) Act was not wrongful or unjustified and items recovered in a search were properly admissible as evidence.
Following the appeal judges' decision advocate depute Ashley Edwards asked them to re-impose the community payback order on O'Connor, which had been suspended.
They agreed to do so and he must now complete 200 hours of community service.