Men admit culpable homicide of East Lothian takeaway driver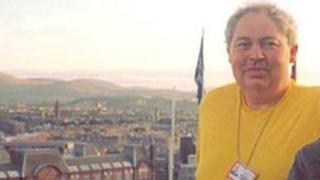 Two men have admitted the culpable homicide of a former soldier after he went to the aid of his boss.
Steven Archibald, 37, of Musselburgh, and Michael Sutherland, 31, of Wallyford, admitted repeatedly punching and kicking John Auld, 59.
The two men launched their assault after attacking Brahim Hamouda at the takeaway he owned in Tranent's High Street on 4 March last year.
Mr Auld, who had a heart condition, collapsed and died at the scene.
The High Court in Edinburgh heard that he had served three tours in Northern Ireland with the Royal Scots.
Archibald and Sutherland were originally charged with murdering Mr Auld.
The Crown accepted their guilty pleas to the charge of culpable homicide.
Paint stains
Both admitted killing Mr Auld by repeatedly punching and kicking him, pushing him against a window and striking his head against it.
Sutherland also admitted assaulting Mr Hamouda at the takeaway by punching and kicking him on the head and body.
The court heard that Sutherland had been angry at getting paint stains on his jacket. They had been warned that the premises were newly painted.
Sutherland climbed over a counter to attack Mr Hamouda, 52.
Mr Auld, who had been outside, went into the takeaway to try and help his employer.
Advocate depute Richard Goddard told the court: "It appears from accounts of witnesses that each accused struck him at least 10 times."
'Physiological stress'
Mr Auld, of Ormiston, managed to get outside but slumped over the bonnet of his car before falling to the ground.
Members of the public went to his aid and the victim said he could not believe what had happened to him.
He died despite the efforts of police, ambulance personnel and hospital staff.
Mr Goddard said: "The physiological stress of the attack on a person with significant underlying heart disease caused an increase in heart rate and blood pressure, which in turn caused the development of a fatal cardiac arrthymia - an irregular heartbeat."
Police who were called to the scene found Archibald in the High Street at Tranent.
Mr Goddard said: "He was found to be heavily intoxicated and was complaining about the damage caused to his jacket."
The judge, Lord Uist, deferred sentence on Archibald and Sutherland until next month for the preparation of background reports. He remanded them in custody.