Production ends at Hall's of Broxburn meat plant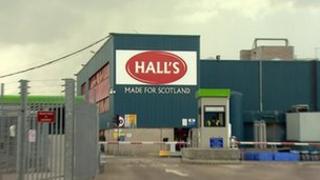 Production has come to an end at the Hall's of Broxburn meat factory in West Lothian.
Almost 1,700 jobs have gone since Dutch owners, Vion, announced its closure last year.
Last week Browns Food Group, based in Dumfries and Galloway, said it had agreed a deal to buy the Hall's brand and recipes.
Many of the former workers remain angry at how the closure of the Broxburn site has been handled.
Thomas Lynch, 50, was a manager at the plant, and also sat on the taskforce which tried to save it from closure.
He said: "It's very frustrating. I think everyone involved in the Hall's site just wanted honesty. Deep down we probably knew it was a wasted effort.
"From day one the general feeling was that the site was going to close even though we went over cost saving measures."
He added: "I've applied for a number of jobs. I'm still applying for Scottish jobs as well but I'm applying further afield. If that becomes fruitless then I may have to look at retraining as well."
Some shops in the town have already reported a downturn in business as a result of the Hall's closure.
Gift shop owner Julie Milburn said: "There are less people around generally and I think what they are spending is less on average, per sale, than there would have been a year ago."
In December, Finance Secretary John Swinney agreed a £29m economic development package to be invested to support workers and the communities affected by the closure of the Hall's factory.
The local council has also urged Vion to donate the land for regeneration.