Gordon Brown in talks over future of Fife Remploy factories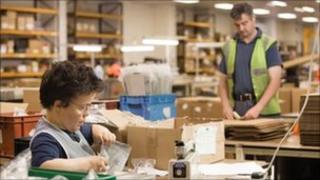 Former prime minister Gordon Brown is among politicians who will meet the UK Work and Pensions Secretary this week in a bid to save two Fife factories.
The Remploy factories in Cowdenbeath and Leven, which employ disabled workers, are earmarked for closure.
Mr Brown, Labour MP for Kirkcaldy and Cowdenbeath, will argue they have full order books and could be expanded.
Scottish Enterprise Minister Fergus Ewing will also attend the meeting with Iain Duncan Smith.
Other Remploy sites in Motherwell, Aberdeen and Edinburgh have already closed.
Mr Brown will be joined at the meeting by colleagues Glenrothes MP Lindsay Roy and Dunfermline MP Thomas Docherty.
The three MPs said a doubling of transitional help from the UK and Scottish governments was needed to save the two 60-year-old factories.
'Viable business'
In a joint statement, the MPS said: "In most of the 64 cases of Remploy privatisation, the factories have been closed and privatisation has become either liquidation or decimation of the original workforce.
"The government's 'one size fits all' approach is particularly inappropriate given the huge potential to create a viable business in Fife.
"This government has emphasised that we must place a premium on competitive manufacturing - these factories can survive, keeping the work in Britain, if the UK and Scottish governments do more."
A Scottish government spokeswoman said: "The Scottish government has repeatedly protested to the UK government about the timing and manner with which funding for these factory sites has been withdrawn.
"In the last week, local authorities, trade unions and MSPs have again called for a delay to the sale/closure process to enable plans for the successful continuation of all the remaining Remploy businesses - including the Remploy Marine sites in Fife - to be developed.
"We will continue to do all we can for the workers of all five remaining Remploy factories in Scotland, and lobby the UK government to do the same."
Mainstream employment
Representatives from Fife Council will also attend the meeting with the Work and Pensions Secretary.
The UK department for Work and Pensions has said its priority throughout the commercial process has been "to safeguard jobs".
It said it had focused efforts on getting disabled workers into mainstream employment.
A spokeswoman added: "All disabled employees affected by the changes will be guaranteed tailored support from an £8m package, including a personal case worker, to help with the transition into mainstream employment."