Douglas Lawrence sentenced for stairwell killing of Carolyn Ann Ellis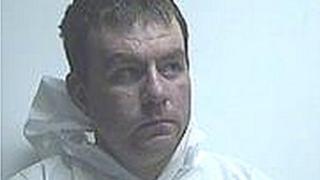 A man who stabbed his former girlfriend to death in an Edinburgh stairwell has been detained in the State hospital.
Douglas Lawrence, 29, attacked Carolyn Ann Ellis, 32, at her home in West Tollcross on 17 January 2012.
He was told there was no minimum restriction to the length of time he will spend in Carstairs and is subject to lifetime restriction conditions.
He was accused of murdering Ms Ellis but his guilty plea to a reduced charge of culpable homicide was accepted.
The attack left the broken tip of the knife embedded in her head.
Ms Ellis suffered 45 knife wounds and was throttled with a belt despite attempts by neighbours to save her.
At the High Court in Edinburgh, Lawrence also admitted assaulting neighbour Pauline Smith by striking her with a knife, struggling with Christeen MacKenzie and kicking and punching Peter Scolley.
Lawrence further admitted attacking nursing assistant John Stewart on 2 February last year while he was being held in Carstairs State Hospital.
In court, judge Lord Uist heard psychiatrists describe Lawrence's lifelong struggle with Asperger's Syndrome and schizophrenia.
Lord Uist made an order keeping Lawrence in the State Hospital. He cannot leave without the agreement of Scottish government ministers.
"It is a tragic case all round," said the judge.
Earlier, advocate depute Michael Stuart, prosecuting, had told the court that despite his problems Lawrence obtained an honours degree in philosophy from Edinburgh University and seemed to be managing his difficulties by living a "mundane" life.
Ms Ellis suffered from borderline personality disorder as a result of childhood experiences and met Lawrence because both were psychiatric out-patients.