Edinburgh Statutory Notice scheme 'scrapped'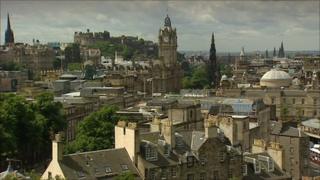 Edinburgh's controversial Statutory Notice system which made private homeowners carry out repairs is being scrapped for all but emergency work.
Last week, BBC Scotland revealed Edinburgh Council had paid £27m to contractors for building work which it had not recouped from residents.
Now an internal document, seen by the BBC, has outlined plans for the Property Conservation department.
From April, it will only carry out emergency repairs and offer advice.
Edinburgh had been unusual in operating a system which gave the council statutory powers to force homeowners to make repairs.
Different focus
Under the system, City of Edinburgh Council could intervene to organise repair work on private properties when the owners of shared buildings could not reach agreement.
But the system was accused of being open to bribery, overcharging and unnecessary work being done.
BBC Scotland has seen a council document which says it will no longer operate the system apart from for emergency repairs.
A statement from City of Edinburgh Council said a new service would be "developed from scratch" which would have a very different focus from the previous system.
It said: "The new approach has two main elements: providing information and advice to help property owners manage their own repairs, with the council only intervening to provide an emergency service."
Historic property consultant John Addison said the old system could work very well if it was managed properly.
"I would leave the system as it is," he said.
"Bring back some of the good points from the older system, bring it all together but let's not throw it all away."
"Let's have a look at the management, the training and the expertise of the people involved."
Edinburgh Council's statement added: "We do understand the benefits that the previous system, when working properly, had to some property owners.
"However, we believe the right approach for the future is to help and encourage all owners to deal with their own repairs."