Post office worker Nadeem Amjid jailed for stealing 89-year-old's savings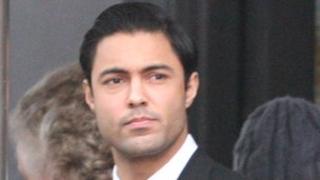 A post office worker who stole more than £33,000 from an Edinburgh woman's savings account has been jailed for 20 months.
Marjorie Mills, 89, put thousands of pounds of cash into the care of the Post Office after she was attacked in her Edinburgh home years ago.
Nadeem Amjid, 26, stole her money when he was working at the city's Colinton Mains Post Office.
Amjid was caught when Mrs Mills' family checked her statements in May 2012.
Amjid pleaded guilty to fraud on various occasions between 29 October 2010 and 16 May 2012 at an earlier court appearance. Sentence had been deferred for background reports.
Sheriff Paul Arthurson heard that Amjid had stolen the cash to fund a gambling problem.
Banking records
He told the first offender: "Taking into account the nature of the crime, the age of the complainer and the fact that the complainer is vulnerable, the only disposal available to me is to impose a custodial term."
Depute procurator fiscal Isobel Clark told the court that Amjid was an employee at the post office and had served Mrs Mills on several occasions.
He noticed that the pensioner only withdrew £50 on each occasion that she visited the post office.
The court heard that from October 2010, Amjid started to manipulate banking records whenever he served Mrs Mills.
Manipulated statements
Ms Clark said that the OAP would be given £50 and a receipt which informed her that she had withdrawn that amount.
However, Amjid was withdrawing £650 from the account and keeping the other £600.
He was unable to manipulate the statements that were sent to Mrs Mills's home, and when her family started to check her finances they were "shocked" to see how little she had in the account.
Ms Clark said the post office had reinstated and reimbursed the money taken from the her account.