Hearts launch match-day pie app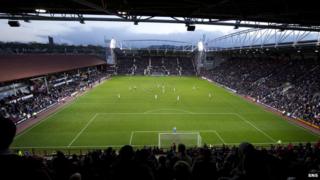 Hearts fans are being given the chance to jump the pie queue - by placing orders through their smartphones.
The club has developed a mobile app that allows supporters to place orders and have food and drink delivered to their seat.
It said its Tynecastle stadium would be the first in the UK to provide such as service.
Some 3,000 fans can use the app during Saturday's match with Motherwell.
A statement on the Scottish Premier League club's website said: "Supporters seated in the upper sections of the Wheatfield Stand will have the unique opportunity to use their Android or iOS smartphones to skip the queues and have their food delivered direct to their seats, ensuring that they don't miss a minute of the action on the pitch.
"Following this initial deployment, it will then be rolled out to other areas of the stadium throughout the remainder of the season."
The new app has been developed along with catering partner Saltire Hospitality and mobile technology company QikServe.
Hearts managing director David Southern said: "We are delighted to be the first football club in Britain to use mobile technology in this way to give our supporters more flexibility in the way they access concessions during a match."
Supporters who have downloaded the app will be able to scan barcodes on their seats to find the available menu.
Saltire Hospitality business development manager Martin McAvoy said: "This is a UK first in terms of the use of mobile technology for ordering at a football match.
"The QikServe App, already proven in sectors including casual dining and hotel-room service, is available as a free download and allows secure payment."
QikServe orders will be put on hold during half-time, while the concessions kiosks are at their busiest at the Edinburgh stadum.
Dan Rodgers, QikServe's founder, added: "The classic pie and Bovril combination is a British football tradition and that will never change, but our goal is to use mobile technology to bring that tradition into the 21st century.
"The convenience of ordering from your seat is a perk normally reserved for the executive boxes, but QikServe makes it possible for everyone."