Siddique murder: Brother fails to cut sentence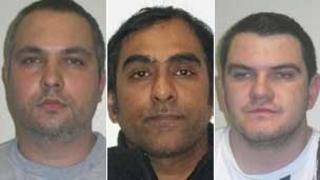 A Fife man who ordered the killing of his brother over a business dispute has failed to persuade appeal judges to cut his minimum jail term.
Mo Siddique, 43, must still serve 25 years before he can apply for parole. Toby Siddique, 38, was shot dead in Glenrothes on 24 October 2010.
Deyan Nikolov, 28, who acted as Siddique's fixer, had his minimum sentence increased by five years.
Tencho Andonov, 29, who shot Siddique, had two years cut from his sentence.
All three were jailed for life after being found guilty of murder.
They separately appeared before the Court of Criminal Appeal in Edinburgh.
Mo Siddique and Andonov protested their sentences were too harsh.
Meanwhile prosecutors brought Nikolov, Mo Siddique's "right hand man", to court, claiming he got off too lightly.
Trial judge Lord Kinclaven, in his report to the appeal judges, described Mo Siddique as a "very manipulative and domineering person" who was the driving force behind the "cold-blooded" shooting of his brother.
"The type of contract killing, where the accused was instrumental in setting up the circumstances whereby its execution was carried out, is conduct of which this court must take a very serious view," said Lord Clarke, announcing the appeal decisions.
Explaining the increase in Nikolov's sentence, Lord Clarke said the Bulgarian had been involved in more than one attempt to lure Toby Siddique to his death, knew that a gun was to be used, and had tried to help Andonov escape from Scotland afterwards.
His role was "clearly fundamental" and he was going to be paid for his trouble.
Nikolov must now spend at least 23 years in prison and Andonov can ask the parole board to release him after 27 years.