'Jail smuggling' Fife lawyer David Blair Wilson was in debt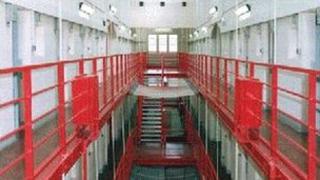 A Fife solicitor accused of trying to smuggle drugs and phones into into Edinburgh's Saughton Prison was in debt, a trial has heard.
David Blair Wilson, 55, from Dunfermline, denies the charges against him and has lodged papers in court blaming another person.
Mr Blair Wilson faces nine charges, all dating to 6 October 2011 when he was visiting a prisoner in Saughton.
The contraband items were allegedly hidden in a folder.
Detectives questioned Mr Blair Wilson after swooping on his car at Edinburgh's Saughton jail, where he had gone to visit a client.
The High Court in Edinburgh has seen CCTV footage of the lawyer being led away in handcuffs as police prepared to search his silver Vauxhall hatchback.
'Owed money'
The trial heard that Mr Blair Wilson complained of feeling ill and was only interviewed after he had been to hospital for a check-up.
Det Con David McAlinden described some of the question and answer session in the city's St Leonard's Street police station.
Mr Blair Wilson told him he had borrowed cash from his father to help pay the rent during a period when he was unemployed.
The solicitor, by then earning £2,000 a month from law firm D'Alvito Defence Lawyer, thought he owed his father about £5,000.
He added that he had no savings in his bank account.
The trial heard how one package taken from the hatchback contained three mobile phones, another contained blue tablets which tested positive for diazepam and the contents of another tested positive for cannabis resin.
Bulging folder
There was also a package containing 10 hypodermic syringes and six bottles of "yellow liquid."
Blue and white tablets were found in an Ikea bag in the boot of the car.
Earlier the trial saw CCTV pictures of Mr Blair Wilson arriving at the jail with a bulging folder.
After being told it would be scanned by the prison's security equipment he went back to his car and returned with a folder which appeared much thinner.
The articles listed in the charges include three mobile telephones, three SIM cards, cannabis resin, diazepam, drostanolone propionate, testosterone propionate and trenbolone acetate, along with 10 plastic syringes, and buprenorphine tablets.
The charges allege breaches of the Prisons (Scotland) Act and the Misuse of Drugs Act.
Monday is a court holiday and the trial continues on Tuesday.