Abandoned baby Charlotte placed in foster care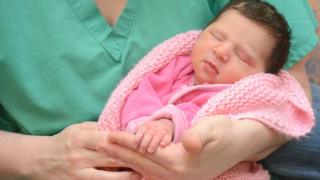 A baby abandoned on an Edinburgh bench has been placed into care after a foster family was found.
Baby Charlotte had been cared for at Edinburgh Royal Infirmary since she was discovered by a passer-by in Hailesland Park at 12:55 on Thursday.
Charlotte weighs 2.6kg (5.7lbs) and all routine newborn checks have been carried out.
The police officer who accompanied the baby to hospital when she was found has urged the mother to seek medical help.
Baby Charlotte has been named after policewoman PC Charlotte Work, who accompanied her to hospital.
Lawrence Liddell, 59, from Hailesland Park, told BBC Scotland how he was in shock after finding the baby.
She was thought to be no more than a day old when she was found.