Edinburgh Zoo waits for female panda hormones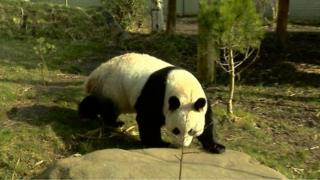 Keepers at Edinburgh Zoo as still waiting for female giant panda Tian Tian's hormone levels to peak before she can be introduced to her mate.
Scientists are monitoring her behaviour and it is believed she could enter the crucial 36-hour breeding window either on Thursday or Friday.
Tian Tian (Sweetie) and Yang Guang (Sunshine) will not be brought together until that stage is reached.
A zoo spokeswoman said Tian Tian's oestrogen level was rising slowly.
"She is still not quite at peak. We continue to monitor her hormones and behaviour and all is heading in the right direction," she said.
"Professor Wang, our Chinese expert, believes our female panda could either suddenly progress very quickly from this stage, or enter the 36-hour breeding window after a slow but continuous rise in hormone levels on either Thursday or Friday of this week.
"We will not attempt to introduce the two pandas until we reach this stage. It is all very normal and all part and parcel of giant pandas - it's just really a waiting game now."
The pair will get the chance to meet up to three times for short 15 to 30-minute intervals, following the pattern of how pandas would come together in the wild to mate and then separate.
Keepers are hopeful that they will mate naturally but she will also be artificially inseminated to increase her chances of getting pregnant.
If Tian Tian does becomes pregnant, confirmation will come in mid-July when experts can give her an ultrasound scan. It would then be likely that her cub, or cubs, are born at the end of August or the beginning of September.
The normal breeding season for pandas is mid-April to May.