Tom Daley makes a splash in Edinburgh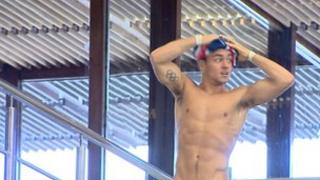 Diver Tom Daley is in Edinburgh for his first competitive appearance since the Olympics.
The World Diving Series is taking place at the Commonwealth Pool this weekend.
It is the first major event hosted by the pool since its £37m refurbishment.
At 18 years old there is not much Tom Daley can do wrong. Television presenter, poster boy and pretty good on a diving board too.
When he takes part in the 10m platform on Sunday, it will be his first competitive appearance since London 2012 where he got a bronze medal.
Daley said he found it hard to get back into the water after the Olympics but here in Edinburgh he is planning to test out a new routine
He said: "Every single move I've done has been broken down right back to the basic elements and working backwards just to get the technique even better.
"This year is a bit of a tester year really. I'm changing the order of my list of dives so I'm opening with a new dive."
His schedule since London has been packed. However, Daley said being busy is key to keeping him focused on diving.
He said: "If I just had diving to think about, it would get too much so it's good for me to have school.
"I've got exams coming up, different TV stuff but that's what I enjoy doing. It gives me motivation."
Daley was only 15 when he first made headlines at the Beijing Olympics as Britain's youngest ever competitor.
Undoubtedly his looks, his personality and his compelling family story are factors in his appeal.
Organisers of the World Diving Series at the Commonwealth Pool are expecting many a teenage girl and boy as spectators.
However, Daley has made a difference to participation too. Here in Edinburgh the local diving club now has over 500 members.
Other young competitors in the team feed off Daley's success.
Jack Laugher will be participating in the 3m springboard. He said of Daley: "He's a great ambassador for the sport, it's really good to get diving out there."
And don't worry, he actually is a great guy. Hannah Starling is 17 and competing in the 3m springboard.
She said: "He's such a nice person. Everybody always wants to know is he really that nice in real life and he is."
So just a day after one great Olympian announced his retirement in his home town of Edinburgh, do we have a new boy in town to step into his shoes?
Daley said: "I'm not sure about stepping into Chris Hoy's shoes just yet.
"I think I might have to win a few more medals before I can do that but it would be great to try to get to the same standard as he's got too."
Now that really would make a splash.