Denis Gallen detained over attack on father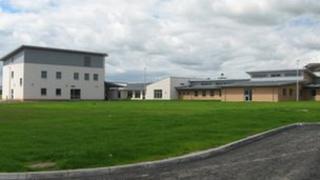 A man has been detained in the State Hospital at Carstairs after he appeared in court over the attempted murder of his father in his Edinburgh home.
Denis Gallen, 38, told the 72-year-old he was there to give him "a message from God" before putting a pillow over his face and repeatedly stabbing him.
The Crown accepted his not guilty plea after he lodged a special defence.
He said he was suffering from a mental disorder during the Loganlea Drive attack on 13 December 2012.
During the incident, the High Court in Edinburgh heard Gallen showed his father a picture of his deceased wife and told him: "You're joining her today."
The court heard that Denis Gallen senior made 999 calls and dropped the phone. His son was heard shouting: "I'm going to kill you dad."
When police arrived at the house Gallen struggled with officers and when asked to calm down because there were children in the vicinity told them: "I'll go over to the school and kill all the kids."
The judge, Lord Doherty, made an interim compulsion order and ruled that Gallen be detained in the State Hospital at Carstairs.
Police forced entry to the property and found Mr Gallen bleeding profusely with swelling to the left side of his face.
He later said: "I can't believe what I've done to my dad...It seemed so real. I was convinced it was real."
He was sent for psychiatric assessment.
Mr Gallen senior was taken to hospital where he had to have about 60 stitches.
Advocate depute Adrian Cottam told the court Mr Gallen was initially very angry with his son following the assault but had since become more sympathetic.
Defence solicitor advocate Matthew Auchincloss said: "Denis Gallen loves his father very much."
He said it was as yet unclear why "this manic episode" occurred on this day. He added: "It is quite clear he was deeply unwell."