Lawyer David Blair Wilson tried to smuggle drugs into Saughton Prison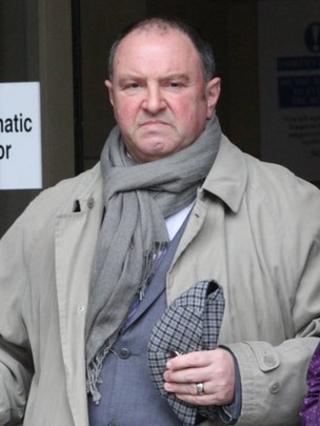 A Dunfermline solicitor is facing jail after being caught trying to smuggle drugs and phones into a prison.
Items were found in David Blair Wilson's car as he visited an inmate at Edinburgh's Saughton Prison in October 2011.
A trial at the High Court in Edinburgh was shown CCTV of the lawyer being led away in handcuffs as police prepared to search his silver Vauxhall hatchback.
He will return to court next month to be sentenced.
The trial heard the search of Blair Wilson's car uncovered phones, diazepam tablets which could have been worth £2,800 at inflated prison prices, and other contraband items.
The 55-year-old had insisted he did not know the suspect packages were there. He blamed a teenager he had befriended who was living in fear of drug dealers.
The court heard that on 6 October 2011, Blair Wilson had arranged to visit - in his professional capacity - Lee Brown, 35, who told the trial he was serving a total of 18 and a half years, a sentence for attempted murder dating back to 2004 with "a few bits and bobs" added since then.
CCTV footage showed the lawyer arriving at the Saughton jail carrying a bulging folder.
Prison officer Graham Robertson, 25, described how he checked Blair Wilson's ID and his colleague told the solicitor his folder had to be scanned.
Thinner file
"He became quite anxious looking, began to sort of fidget. His body language changed slightly," said the prison officer.
Blair Wilson returned, briefly, to his Vauxhall Signum then came back into the prison vestibule. This time his file was noticeably thinner.
In the witness box, Blair Wilson said the suspect packages were nothing to do with him.
He said Steven Douglas - the youth he had befriended who regarded him as a mentor and surrogate father - must have put them under the driver's seat when he borrowed the car the previous evening.
There were 19 fingerprints on the packages which matched those of Mr Douglas.
Mr Douglas should have appeared as a witness - but when asked where he was, Blair Wilson replied: "I wish I knew."
The solicitor said Lee Brown, the prisoner who should have received the phones and drugs, had promised to help Mr Douglas - who had been living in fear of drug dealers since he accidentally left a valuable package of heroin in his jeans when they went through the wash.
Brown was supposed to be brokering a peace and his role was the subject of text messages and phone calls and was discussed at prison visits during the days leading up to Blair Wilson's arrest.
Police evidence
In his closing speech to the jury, advocate depute John Scullion, prosecuting, dismissed Blair Wilson's story.
"The account beggars belief and is an insult to your intelligence and common sense," he said.
But the prosecutor did concede that the police evidence had been "less than impressive" and "confused."
Defence QC Frances McMenamin said the police had failed to bring in a photographer to show exactly where the packages were found.
She claimed they had also failed to keep a proper productions log and there had been confusion about the opening of the packages in the police station.
The position of the packages was crucial to the Crown case, but the officers "didn't give a shirt" she accused.
A jury's majority verdict convicted Blair Wilson of attempting to smuggle three mobile phones, three SIM cards along with two chargers and two earphones into the jail.
He was also found guilty, by majority, of being concerned in the supply of cannabis resin, diazepam and body-building drugs - in particular to Lee Brown.
Judge Lord Jones allowed Blair Wilson to remain on bail until sentencing - providing he surrendered his passport.