Eight skeletons found at Edinburgh car park dig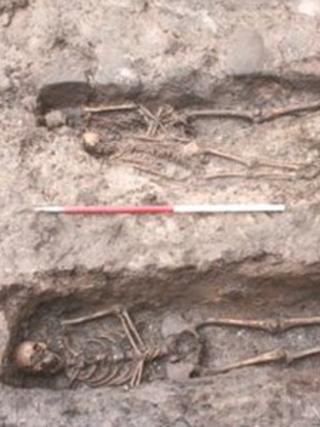 Eight skeletons have been discovered next to the site where a medieval knight was found underneath a car park in Edinburgh.
One partial and seven full skeletons were found in Edinburgh Old Town in the confines of an ancient wall, which may be the remains of a family crypt.
The car park is being cleared to build a new Edinburgh Centre for Carbon Innovation.
The site was formerly that of the 13th Century Blackfriar's Monastery.
Last month the remains of a medieval knight were found at the site with an elaborate sandstone slab, with carvings of a Calvary Cross and ornate sword marking the grave.
As part of low carbon measures for the Edinburgh University scheme, work was being carried out in the former car park to create a rainwater harvesting tank for the new building.
It was already known the area had been the site of the 18th Century Old High School, the 16th Century Royal High School and the 13th Century Blackfriars Monastery.
The excavation has revealed the exact location of the monastery, which was founded in 1230 by Alexander II (King of Scotland 1214-49) and destroyed during the Protestant Reformation in 1558.
'Treasure trove'
Ross Murray, the archaeologist who found the skeletons, said: "This site just keeps getting more and more interesting, it is turning out to be a real treasure trove of archaeology.
"We just can't seem to stop finding skeletons and bones.
"These new finds look likely to be the possible relations of the suspected medieval knight we found earlier this year.
"The skull of the skeleton found immediately beneath the location of the knight looks like that of a female and the remains found on the other side of the ornate slab belong to an infant from the same period."
The project's archaeological services have been provided by Edinburgh-based Headland Archaeology.