John Stafford sentenced for Buckhaven seagull killing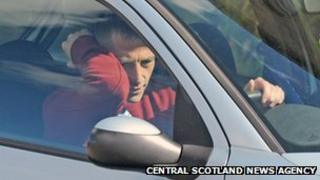 A Fife man found guilty of killing a seagull by stoning and kicking it to death has been sentenced to 200 hours of community service.
John Stafford, 32, was at his home in Buckhaven, Fife, when he attacked the herring gull, kicking it and hitting it on the head with a stone.
The attack, on 11 July 2011, was spotted by neighbours, who saw the gull in Stafford's garden.
Sentenced had been deferred after he was found guilty in March.
At a previous appearance, Stafford was convicted of intentionally or recklessly killing the bird, an offence under section one of the Wildlife and Countryside Act 1981.
'Horrific act'
Louise Seddon, of the Scottish SPCA, said: "This was a violent and mindless attack on a defenceless creature which took place in broad daylight and was witnessed by neighbours, including an 11-year-old child.
"The young gull would have suffered unimaginable pain throughout the ordeal, which lasted several minutes, while the parents circled overhead.
"Thanks to witnesses coming forward and providing information, we were able to gather enough evidence to prove that Stafford was one of the men involved in this horrific act of cruelty.
"We are glad Stafford now has a conviction for this despicable crime. In our opinion he is unfit to care for any animal."