Hundreds of weapons seized in Edinburgh shop raid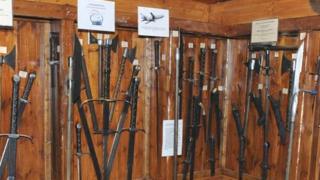 About 1,000 weapons have been seized by police following a morning raid on an Edinburgh city centre business premises.
Samurai swords, broadswords, axes, daggers and knives were recovered from the property.
The potential retail value of the seized weapons is about £100,000.
A 45-year-old woman has been charged with licensing offences and will be reported to the procurator fiscal. All of the items will now be destroyed.
Insp Alun Williams, of Police Scotland, said: "Knives and other bladed articles can have a devastating impact on our communities and Police Scotland is committed to keeping people safe by removing dangerous weapons from our streets.
"If and when we identify businesses or individuals believed to be selling weapons without an appropriate licence, we will respond accordingly to seize these items and cease their trading of such goods.
"Violent crime, including knife and weapon offences will not be tolerated and anyone found to be involved in the inappropriate supply, or indeed, the use of such items will be robustly dealt with."