Edinburgh Marathon Festival attracts 29,000 runners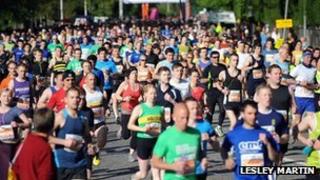 More than 29,000 people have taken part in the Edinburgh Marathon Festival.
Organisers hoped to raise more than £4.5m from the two-day event, which inluded marathon, half marathon, 10K, 5K and junior races.
Tola Lema from Ethiopia won Sunday's marathon completing the course in 2:15:32. Kenya's Risper Kimaiyo was the first woman with a time of 2:35:00.
Scot Kenny Heney completed all four adult races, using a Harley Davidson between races to make the start line.
The 37-year-old, who lives in Dubai, ran a total of 48 miles in under six and a half hours.
He said: "It's an unbelievable feeling to finish. I've had the most amazing day and I loved every minute of my journey on the Harley Davidson bike back in to Edinburgh.
"The last 10 miles of the marathon was tough but I knew it would be."
Personal triumphs
Trent Morrow, 39, from Sydney, crossed the line in 4:14:44 - as part of his mission to set a world record for the most marathons run in a calendar year.
The Australian has already completed more than 50 marathons and aims to average a minimum of three a week for the rest of the year to complete a total of 160 marathons in 2013.
"In the last five days I've run marathons in New England, US and Springfield Massachetts and now I'm here in Edinburgh," he said.
Ryan Beattie was the first Scot in the Edinburgh Marathon Festival race history to win the half marathon, completing it in 1:09.
The 26-year-old builder from Falkirk said he planned to celebrate his first ever win with his fiancée.
He said: "We're getting married next May so this win today is a brilliant early wedding present."
Neil Kilgour, Edinburgh Marathon Festival director, said: "We are proud that the Edinburgh Marathon Festival is the most inclusive festival of running in the UK.
"From the world's best elites through to the first time marathon runner, to youngsters standing in the start pen for the first time in their lives, we welcome them all. Each of these people are changing their lives and many are changing the lives of others too through raising vital funds for charity."