Family 'devastated' by fatal Edinburgh shooting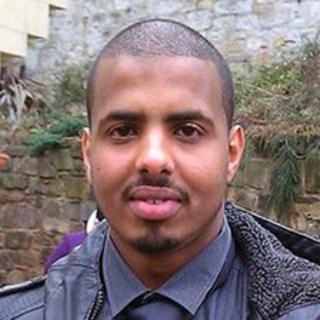 The father of a man killed during an armed car chase in Edinburgh has said his family are devastated.
Mohammed Omar Abdi, 25, died of gunshot wounds after what appears to have been a gang-related incident in the Willowbrae area on Sunday.
Police have appealed for information about a blue Volkswagen Sharan found crashed at the scene.
It has also emerged that the victim and his father were arrested in connection with drug offences this month.
Mr Abdi, who police have now confirmed had been shot, was found lying close to the crashed blue people carrier just after 01:00 BST on Sunday.
A second man was found injured after what police said was "a series of related incidents". Detectives have said it is now a cross-border investigation and they have widened their inquiry within the capital.
'Begin to grieve'
Mr Abdi and his father, Omar, both members of Edinburgh Central Mosque, appeared in court on drug charges after being detained by police at their home in the Leith area of the capital this month.
Police have played down Mr Abdi Sr's role and said he is a volunteer at the mosque, but it is understood he assisted the imam.
In a statement issued on his behalf by police, he said: "Mohammed was my son and a much loved member of the family.
"We have all been left devastated by his death and we want those responsible to be brought to justice so we can fully begin to grieve.
"I would ask anyone who knows anything about his murder to go to the police immediately."
Det Supt Gary Flannigan, who is leading the murder inquiry, said: "I previously said that we thought there had been a number of related incidents earlier on Saturday evening.
"I now believe one of these incidents may have centred around Captain's Drive.
"It may have a significant part to play in our inquiry, and I am urging anyone who saw a blue VW Sharan in that area on Saturday evening or heard a disturbance anytime between 10.30pm and midnight to contact us."
House damage
Police have released an image of a similar vehicle in the hope that it will jog people's memories.
Det Supt Flannigan added: "It may be the case Mr Abdi was also in or close to Captain's Drive on Saturday evening. We have had a report of damage to a house in Captain's Drive and we are investigating the cause of that damage.
"It is a time of night when people may have been returning to their homes after being out for the evening and taxi drivers may have been dropping off or collecting fares.
"I would appeal to them and anyone else who may have any information to come forward."
Detectives have said they believe between six and 10 black men were involved in related incidents in the hours before the murder.
They have also renewed their appeal for sightings of a silver or grey hatchback-style car that may have been in the Abercorn Avenue/Paisley Drive vicinity at about 01:00 on Sunday.
Mr Shami Khan, a community activist who lives near the murder scene and is a member of the mosque, told BBC Scotland people were saddened by what had happened.
"Omar Abdi was, as a young boy, quite jolly, running around here and there. The community is shocked that this boy seems to be involved in the wrong crowd."
'Quiet gentleman'
He added: "This is nothing to do with the mosque. That is the one thing that is totally clear. The mosque is a place of worship and anybody can go there and do their worship there.
"Mr Abdi was very polite, he used to lead prayers. He was a quiet gentleman."
Uniformed officers were continuing to provide high-visibility presence in the area to offer reassurance to the community.
Justice Secretary Kenny MacAskill said: "These types of incidents are very rare in Scotland, and latest statistics show that firearms offences are at their lowest level in 34 years.
"The efforts of police to protect our communities and tackle crimes involving firearms has led to a decrease of 21% in the past year alone."