Scottish Court Service cracks down on outstanding fines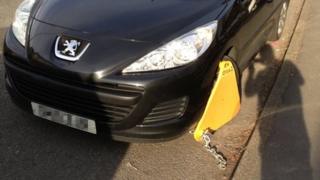 Car owners with outstanding fines in the Lothian and Borders are being warned to pay up or face having their vehicles clamped - or even scrapped.
The Scottish Court Service has launched a drive to crackdown on outstanding fines, with six cars clamped already.
Figures show the Scottish courts are owed more than £40m in unpaid fines.
Under new powers, fine enforcement officers will be able to access information held by Whitehall departments in order to reclaim money.
There are currently more than 72,000 fines outstanding to Scottish courts, dating back over three years.
In the last month, six vehicles with outstanding fines were clamped, which the Scottish Court Service (SCS) said reclaimed £1,400 worth of fines.
The owners paid between £113 and £588 to reclaim their vehicles, which included a Ford transit van, Vauxhall Zafira, Volkswagen Golf and Peugeot 207.
The cars were clamped in Livingston, Newbridge and central Edinburgh for unpaid fines imposed for traffic offences.
Once a car is clamped, an owner has 24 hours to pay in order to reclaim the vehicle before it is moved to a pound.
If the car is not reclaimed, daily charges are added. Ultimately, the court can sell or scrap unclaimed vehicles.
Fine enforcement officers will soon be granted new powers which will allow them to access information held by the Department for Work and Pensions (DWP) and other Whitehall departments.
They will be able to use this information to track people with outstanding fines.
They also have the power to arrest wages, deduct benefits and freeze bank accounts.
'More efficient'
Cliff Binning, chief operations officer for the SCS, said: "Having access to this information will help us speed up the process of fine collection and make it more efficient.
"For example, we will be able to track a defaulter who moves from benefits into work through DWP information. These additional tools will make it easier for us to tackle those who try to avoid paying.
"We take decisive enforcement action against anyone who fails to pay a fine and that includes clamping, seizing and even selling or scrapping your car."
A quarterly report shows that 88% of sheriff court fines from the last three years have either been paid or are on track to be paid through instalments.
As of April this year, more than 460,000 enforcement orders had been granted.
Payments taken directly from benefits during the past financial year reached £2m.
Mr Binning added: "There is no excuse for offenders not to pay their fines or contact a fines enforcement officer for advice.
"Payment can now be made online, by phone, by post or in person at any sheriff court or justice of the peace court, making it easier than ever."