Leith Waterworld: Anger over council decision to sell pool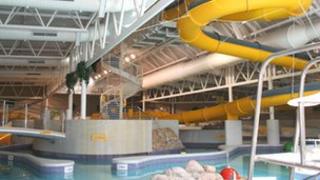 Campaigners bidding to run Edinburgh's only swimming pool with flumes have hit out at a council decision to sell it for £1m to create a soft play centre.
Community group Splashback was given £100,000 from the City of Edinburgh Council for a feasibility study into operating Leith Waterworld.
But the council has now agreed to sell the site, which closed in January 2012, to the A&G Property Group.
Funds of £125,000 will also be provided for children's swimming schemes.
When it closed Leith Waterworld was making annual losses of about £350,000 and needed £2m worth of upgrade repairs.
'Difficult decision'
Councillor Richard Lewis, the city's culture and sport convener, said: "This has been a very difficult decision and one that this council does not take lightly.
"Firstly I'd like to thank Splashback for the work and commitment they have demonstrated in progressing the community bid.
"However, this coalition feels that the potential purchaser will create a high-quality leisure facility that will greatly benefit the community in Leith and the wider Edinburgh area."
He said the funding towards free swimming for primary aged children in the city was a recognition of Splashback's commitment.
Splashback said it was "infuriated and dismayed" by the decision.
The group said significant progress had been made in its feasibility study, including an application for charitable status, tenders issued for engineering, design and consultancy services and positive contact made with potential funders.
Local jobs
In a statement, Splashback said: "The bid accepted today is a poor result for Leith, for families, children, the disabled or the local community.
"Losing this unique and much-loved fun pool is an utter tragedy for the city - such infrastructure is unlikely ever to be replaced.
"Soft play delivers none of the health and wellbeing benefits of swimming."
It adds: "We are heartbroken that we have not been able to save the pool, despite our best efforts. We know this will be deeply felt by many across the city."
Green councillor for Leith Chas Booth branded the decision "a real kick in the teeth".
"To soften the blow by diverting the money which would have been invested in reopening the pool into primary age swimming instead is an attempt to hide the council's embarrassment at this decision," he added.
A&G Property Group proposes to spend about £1.3m on refurbishing the building as a soft play and leisure facility. The council said the offer would also see over 80 jobs created in the local area.