Cyclist killer Gary McCourt: Crown to appeal against 'lenient' sentence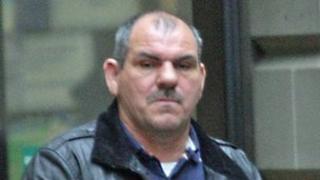 The Crown Office is to appeal against the "unduly lenient" sentence imposed on a man who killed two cyclists in separate incidents.
Gary McCourt was banned from driving for five years after being found guilty of causing the death of Audrey Fyfe, 75, in Edinburgh in August 2011.
He had been jailed for causing another cyclist's death in 1985.
The Crown said it was lodging an appeal against the most recent sentence, which cycle campaigners branded "scandalous".
A statement from the Crown Office said: "In cases of a serious nature, Crown Counsel will often consider whether the sentence imposed is within the range available to the sheriff in the exercise of his or her discretion.
"Following careful consideration of the facts and circumstances of the case against Gary McCourt by Crown Counsel, we can confirm that the Crown will be lodging an appeal against the sentence on the grounds that it was unduly lenient.
"The family of Mrs Fyfe have been kept advised of this decision and we will continue to update them as to any significant developments in the appeal process."
'Beyond comprehension'
Mrs Fyfe's widower had lodged a complaint against McCourt's sentence, which the family had described as "beyond comprehension".
Her daughter, Linda Hamilton, welcomed news of the appeal.
She said: "We are delighted this will be now reviewed and thank you to all of the people that emailed the Lord Advocate to support us."
In April, a jury at Edinburgh Sheriff Court found McCourt guilty of causing Mrs Fyfe's death by careless driving.
The trial had heard that the 49-year-old told police he "clipped" Mrs Fyfe's back wheel at a junction.
The cyclist died two days after the collision, which took place between Portobello Road and Craigentinny Avenue on 11 August, 2011.
In May, McCourt was banned from driving for five years and ordered to carry out 300 hours of community service by Sheriff James Scott.
Following his conviction, it emerged that McCourt had been jailed for two years in 1986 after being found guilty of causing another cyclist's death by reckless driving.
Edinburgh man George Dalgity, 22, was killed as he cycled along the city's Regent Road, on 18 October 1985.
Cycling charity, CTC, which had been campaigning for the sentence to be reviewed, said more than 6,000 people had written to the Lord Advocate in support of the appeal.
Secretary of CTC Scotland, Donald Urquhart, said: "It is essential that the courts provide an appropriate degree of protection to all vulnerable road users and that that is reflected in the sentences handed down when careless and dangerous driving has been proved."