SDL and anti-fascists stage protests at Holyrood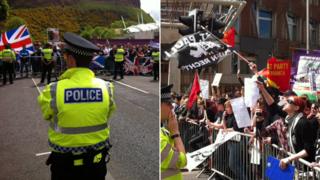 Rival protests by the Scottish Defence League (SDL) and anti-racism campaigners have taken place in Edinburgh's Old Town.
The SDL held a static protest outside the Scottish Parliament, while Unite Against Fascism (UAF) organised its own counter-protest.
Police, who were at the scene in large numbers, kept the two groups apart with barriers in the city's Horse Wynd.
One person was arrested over an alleged public order offence.
Police Scotland said about 200 people took part in the SDL demonstration, while about 400 people gathered for the rival anti-fascist protest.
The road was closed to traffic for the duration of the protests.
Both sides held banners and chanted slogans. The demonstrations appeared to disperse without any clashes between the two groups.