Edinburgh shooting: Car found may be linked to murder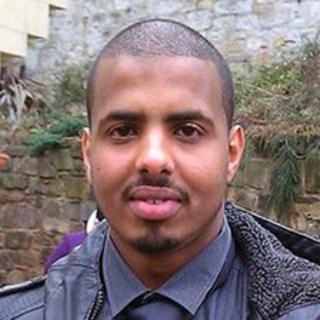 Police believe a car recovered in Glasgow may be linked to a fatal street shooting in Edinburgh.
Mohammed Omar Abdi, 25, died of gunshot wounds after an armed car chase in Willowbrae in Edinburgh on 26 May.
Detectives said a silver Ford Fiesta could be key to solving the killing and appealed for witnesses.
Mohamud Mohamud, 29, and Ahmed Hussain Ahmed, 27, were remanded in custody after appearing in court last week on a breach of the peace charge.
Police are appealing to valet companies who may have cleaned the vehicle since last Sunday when Mr Abdi was shot.
Two groups
Mr Abdi, from Leith, was found lying close to a crashed people carrier in Abercorn Avenue just after 01:00.
Police are linking the killing to incidents involving two groups of between six and 10 men in the hours before his death.
Det Supt Gary Flannigan said: "Since Mohamed Abdi was murdered on 26 May, this investigation has led us to various areas of Edinburgh and each community we have approached has given us an excellent response.
"Following the recovery of the car in Glasgow we are expanding our appeal for information and would urge those who believe they can assist with our inquiries to come forward.
"Officers need to hear from car valeting companies that have recently carried out work on a vehicle matching this description, or from anyone who may have knowledge of a silver Fiesta having been cleaned since last Sunday."