Tron Kirk to become visitor centre in Edinburgh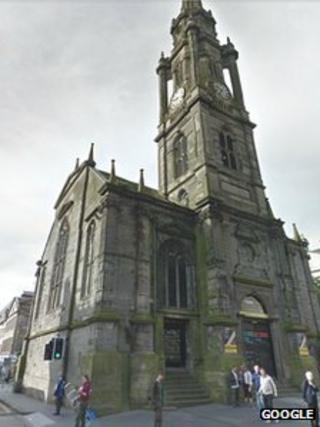 Edinburgh's Tron Kirk on Edinburgh's Royal Mile is to become a visitor centre, telling the story of Scotland's World Heritage Sites.
It was the traditional focus of the capital's Hogmanay celebrations but has been largely unused since its congregation left in 1952.
Conservation organisation, Edinburgh World Heritage, submitted the plans to building owner Edinburgh City Council.
Councillors gave the plans the green light earlier.
The visitor centre will explain the history of the capital's Old and New Towns as well as Scotland's other World Heritage Sites such as the Neolithic Orkney, New Lanark, St Kilda and the Antonine Wall.
Willy Roe, chairman of Edinburgh World Heritage said: "As a category A listed building at risk at the heart of the World Heritage Site, the Tron Kirk is a natural priority for us, and finding it a sustainable use is key to its future.
"The restoration of the building offers Edinburgh a unique opportunity to create an accessible and sustainable centre, from which to tell the fascinating stories of the Old and New Towns, and provide learning about our globally recognised World Heritage sites."
Alasdair Rankin, Edinburgh City Council's finance and budget convener, said: "The proposals to lease the Tron Kirk to Edinburgh World Heritage will bring a new lease of life to the historic building and this part of the city.
"The experience and expertise of the trust will be vital in securing a long term future for the building and also represents the best financial outcome for the taxpayers of Edinburgh.
"The current consultation being undertaken on the future of the Royal Mile identifies the Tron Kirk as a key issue for local residents and businesses and we'll be using their feedback to inform our ongoing discussions with Edinburgh World Heritage."