Children in minibus crash in Edinburgh's Redford Road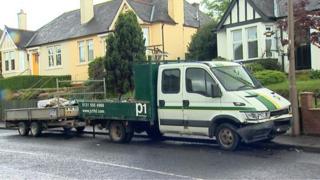 Five children and two adults have been taken to hospital following a minibus crash in Edinburgh.
The accident happened at 08:40 on Redford Road in the west of the city.
The Kaimes School pupils were taken as precaution to the Royal Hospital for Sick Children. The adults were taken to Edinburgh Royal Infirmary with chest and back pain.
The crash involved a minibus and a gardening truck. Redford Road reopened to traffic at 10:00.
The children were aged between 9 to 13 years old.
A Police Scotland spokesperson said: "This collision, although not serious, would have caused distress to the young people involved. We would appeal to anyone who might have witnessed the collision to contact Police Scotland."