Pictures of new Lasswade High School Centre released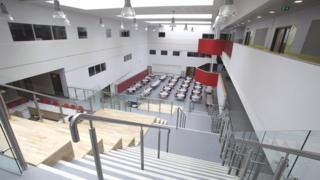 Pictures have been issued of the new £37.1m Lasswade High School Centre in Midlothian.
The building is nearing completion and the new community facilities are due to open on 1 July with the school officially opening after the summer.
The swimming pool is complete, along with the open space for pupils which includes a colourful dining hall.
The photos also show how bright colours have been used to distinguish the open-plan toilets.
Lisa Beattie, Midlothian Council's cabinet member for education, said: "The new Lasswade High School Centre is shaping up to be a fantastic school and community hub.
"The new photos prove everything is on target for our grand openings, and this new £37.1m eye-catching building is sure to be a real asset to both pupils and the general public at large.
"We are all very much looking forward to the 'official' openings and seeing this building take shape over the last 18 months has been an excellent experience and one which we will carry forward into future projects within Midlothian."