Corstorphine body: New details about woman released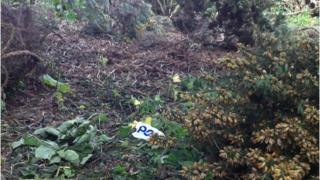 Police investigating the murder of a woman whose dismembered remains were found on Corstorphine Hill in Edinburgh have released new information.
She is now described as between 32 and 60 years old, 5ft 2ins and was wearing four rings.
Images of the two most distinctive golden heart and daisy shaped rings will be made public next week.
We already know she was white, with fair hair, and had expensive looking cosmetic veneers on her teeth.
Big rucksacks
Det Ch Insp Keith Hardie, said: "I am really pleased with the response from the public and we have received a lot of useful information.
"However I am still awaiting that one elusive phone call which will provide the vital clue which will assist us to put a name to this woman.
"We are receiving calls and information from across the UK and it is all being assessed and followed up.
"However, as yet, we have not been given the crucial piece of information which will tell us who she is. "
The police have also received a lot of information about people seen on Corstorphine Hill with big rucksacks and carriers in which the dismembered remains could have been transported and tools which could be used for digging.
Ch Insp Murray Dykes, of Police Scotland, said: "High visibility patrols continue on Corstorphine Hill and the surrounding area and members of the public are encouraged to approach these officers if they have any information they want to bring to our attention."
The police said a number of potential names for the murder victim have been suggested.
The body of the middle-aged woman was discovered in a "shallow grave" on 6 June.