Fife botanic garden rent reduced to £1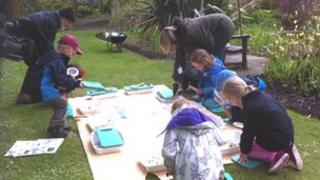 St Andrews University has agreed to lease its botanic gardens to a local trust at a rent of £1 in the hope that the gardens can be saved from closure.
The gardens have been under threat since Fife Council, which has operated the attraction for 25 years, announced it was cutting back funding.
It follows a public petition to save the 124-year-old gardens.
It costs £10 per year for an annual adult ticket to gain entry to the 17-acre site.
Hard work
Stephen Magee, St Andrews University's vice-principal external relations, said: "Although for many years the university has had no academic or strategic use for the botanic gardens and cannot afford to take on the running costs, we are very sensitive to their importance to a number of people locally, as are Fife council the current operators.
"In agreeing to grant a rolling lease to a new trust, we hope that we are giving people who care deeply about the garden the chance to develop a sustainable plan for its future.
"It would be wrong and enormously unfair to them however if it was now assumed that the hard work had been done and the future secured. That is far from the case.
"We would like to take this opportunity to stress again that the garden cannot succeed or survive unless it is used and visited by far more local people, tourists and visitors than is currently the case.
"If it is formed, the new trust will need the practical and real support of all those who have signed petitions in support of the garden.
"We believe that the Friends know, as do the university and Fife Council, that it is a case of use it, or very regrettably, lose it."