Corstorphine Hill body: Car appeal on BBC Crimewatch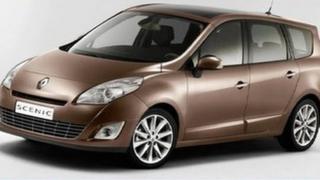 Police investigating the murder of a woman whose body was found on a hill in Edinburgh have appealed for information about a car they want to trace.
Det Ch Insp Keith Hardie gave details of a Renault Scenic that was spotted near the entrance to Corstorphine Hill.
Appearing on a Crimewatch Special, he said a gold/grey car had been seen twice at the hill at about 22:00 in mid-April.
The woman's buried remains were found on 6 June.
The Renault Scenic had been spotted parked in Corstorphine Road, next to the entrance to Corstorphine Hill.
Det Ch Insp Hardie said: "As part of our ongoing investigation we are keen to speak to anyone who has noticed any suspicious activity in the area of Corstorphine Hill in recent months.
"As part of our inquiries we want to speak to the driver or passengers of the Renault Scenic that was parked nearby on two occasions in mid-April, around 10pm.
"It is possible that there will be an innocent explanation to the vehicle's presence, however we would be keen to hear from the occupants in order that we can eliminate them from our inquiries.
"Likewise we would like to speak to anyone else who may have noticed this vehicle, or who knows why it was parked there."
The dead woman was described as being white, between 32 and 60 years old and about 5ft 2in tall. She had fair hair and expensive-looking cosmetic veneers on her teeth.
She was wearing four distinctive rings including an Irish Claddagh ring, which was facing towards the body, which traditionally means the wearer has a partner.
All the rings are old but are not thought to have significant value.
Nine names have been put forward by the public but they have all been traced.
Police have taken more than 90 witness statements, which has resulted in 100 phone calls from members of the public.
In addition, 10,000 leaflets have been distributed to the public, appealing for information.