Final piece of warship HMS Queen Elizabeth transported to Rosyth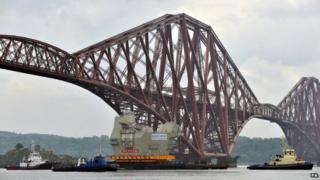 The last piece of what will be the Royal Navy's biggest-ever warship has passed under the Forth Bridge on its way to be assembled.
It took workers in Scotstoun, Glasgow, nearly two years to build the huge aft island of HMS Queen Elizabeth, which will serve as the centre of on-board flight operations.
It weighs more than 750 tonnes and stands more than 30m in height.
It has been transported round the coast of Scotland to Rosyth.
A huge crane will lift it onto the ship.
Skilled men
Ian Booth, BAE Systems' aircraft carrier alliance programme director, said: "The arrival of the aft island is a massive milestone in the assembly of HMS Queen Elizabeth.
"Getting to this point has required a fantastic amount of work from thousands of skilled men and women.
"Seeing this section arrive at Rosyth is a proud moment."
He added: "Now, before the year is out, we will complete the assembly of HMS Queen Elizabeth, the largest ship in the history of the Royal Navy."
The aircraft carrier is expected to be in the water by next year and in full military operation by 2020.
It is the first carrier to use two islands. The forward island, already erected, houses the ship's bridge.
The aft island, around the ship's stern, will house the air traffic control system.