Friends drum for missing student Yulia Solodyankina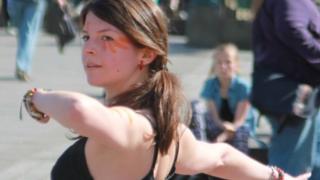 Friends of a 22-year-old Russian student who has been missing since the beginning of the month have stepped up their appeal for information.
Yulia Solodyankina was last seen at the Wee Red Bar in Edinburgh on 6 June.
She was a member of a drum and dance group, which gather at The Mound in Edinburgh to perform and raise awareness of her disappearance.
At the same time 13,000 coffee cups with her face and details are being distributed around the city.
The physics student left the bar on Lady Lawson Street just after 21:00 on 6 June.
Her friends said she seemed tired but otherwise happy.
The following day Ms Solodyankina texted one of her friends and sent a message to her boyfriend on Facebook but she has not been seen or heard from since.
Her friends said it was "completely out of her character" to go missing.
Officers investigating her disappearance said they were becoming increasingly concerned about her safety.
When she was last seen, Ms Solodyankina was wearing a dark jacket and white trainers.
She was carrying a rucksack that appeared to be full.