Lizard dumped in Asda toilets in Edinburgh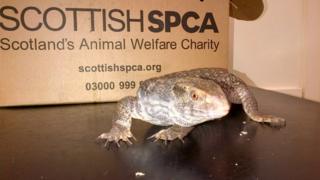 A reptile found abandoned in an Edinburgh supermarket toilet may be linked to the dumping of a bearded dragon in the same area two years ago.
The female bosc monitor was found climbing out of a white sack in the disabled toilets in Asda, on Sandpiper Drive, at about 13:00 on Thursday.
In September 2011 a bearded dragon was found in Morrisons on Pilton Drive in the men's toilet.
Officers said both reptiles may have been dumped by the same person.
The monitor lizard is now being cared for at the Scottish SPCA's Edinburgh and Lothians Animal Rescue and Rehoming Centre, where she has been named Lulu.
Pet ban
Insp June Chalcroft, of the Scottish SPCA, said: "The shop would have been fairly busy at the time, so we're hoping members of the public may have noticed someone carrying the sack in to the store.
"In September 2011 I was called to rescue a bearded dragon which had been left in a white sack in the male toilets of Morrisons on Pilton Drive, which isn't far from where Lulu was dumped.
"Unfortunately, we never received the information we needed to identify the person responsible, but we do have to consider that these abandonments may be linked."
She added: "Reptiles have very specific needs in terms of their environment, nutrition and care and anyone thinking of taking on this type of pet should do their research to make sure they have the time and resources to give their animal the life it deserves."
Abandoning an animal is an offence and anyone found guilty of doing so can expect to be banned from keeping animals for a fixed period or life.