The Keys ceremony in Edinburgh kicks off week for The Queen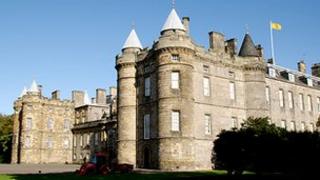 The Queen has started her annual week in Scotland at the ancient Ceremony of the Keys, at the Palace of Holyroodhouse in Edinburgh.
She inspected inspected a guard of honour, formed by soldiers recently returned from Afghanistan.
During the event, she was handed the keys to the city by Lord Provost Donald Wilson.
In keeping with tradition, she handed them back, entrusting their safekeeping to the city's elected officials.
The Queen then inspected the troops from other regiments, who were gathered on the palace forecourt.
She was wearing a mint green coat and hat, at the outdoor ceremony at the palace, while several dozen invited guests watched.
The ceremony began with the playing of the national anthem and the simultaneous sound of a 21-gun royal salute from Edinburgh Castle, at the other end of the Royal Mile.
The salute was carried out by gunners from 19th Regiment Royal Artillery.
Their commanding officer, Colonel John Oldroyd, said later: "The regiment was honoured to fire the royal salute at the castle to mark Her Majesty's arrival in Edinburgh for Royal week.
"The royal salute provides a great occasion for The Scottish Gunners to display their professionalism and pride in conducting such an honour in the nation's capital city."
Duke of Edinburgh
The Queen is not being accompanied by the Duke of Edinburgh during the week of events this year.
Prince Philip is continuing to rest in private after he underwent exploratory abdominal surgery last month.
Since her accession to the throne in 1952, The Queen has visited Edinburgh almost every year, briefly setting up home for a week at her official residence at Holyroodhouse.
The relocation gives her the opportunity to visit parts of Scotland and to honour various achievements by people, north of the border.
On Tuesday she will take part in an investiture ceremony and host a garden party at the palace.
She will also carry out engagements in the Scottish Borders later in the week.