Fisherman rescued from boat wreckage near Torness Power Station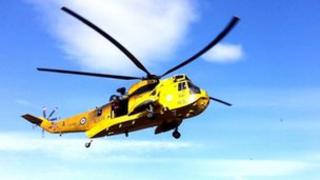 A 55-year-old fisherman has been rescued from the wreckage of his boat by a lifeboat crew.
The man was thrown into the sea from his 25ft boat four miles south east of Torness Power Station while making a mayday call at 10:00, the RNLI said.
Dunbar's RNLI all-weather lifeboat and an RAF search and rescue helicopter were scrambled.
A coastguard spokesman said the man had been in the water for about 35 minutes before he was picked up.
He was cold but uninjured.
Gary Fairbairn, Dunbar lifeboat coxswain, said: "We were on scene in under half an hour, when we got there the bow of the boat was sticking upright out of the water.
"Where it was lying was too shallow to get the lifeboat close and so I had to put one of our crew over the side to swim across in case the man was trapped inside."
Man floating
Mr Fairburn said one of the crew was banging on the outside of the hull to see if there was a response from inside when another lifeboat crew saw the man floating in the water about 300 metres away.
The two crew members got a rope round him and he was pulled onboard.
Mr Fairburn said the man was extremely cold and possibly hypothermic.
He was checked over by paramedics at Torness but declined hospital treatment.
Efforts are being made to raise the boat, the St Peter, which is based in Cove harbour in Berwickshire.