East Lothian girl Tiffany Miller, 6, called for jury duty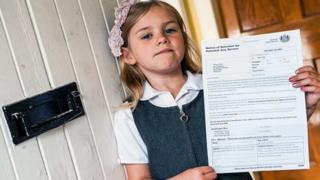 An East Lothian primary school pupil has been called for jury service despite being just six years old.
Tiffany Miller has been sent a letter demanding she join the 15-person panel or face a £200 fine.
Her mother, Sharon Reuter, said she thought the official-looking letter was a note from the doctors at first.
The Scottish Courts Service said its information comes from the Electoral Registration Officer, who provides names and addresses, but not ages.
Legally, you must be over 18 and have lived in the UK for five years since the age of 13 in order to be eligible to be a juror.
Juror citations
Ms Reuter, 36, a hairdresser who lives in Wallyford with her daughter, said: "I thought it was a joke at first, but the letter is clearly official.
"When I first saw it addressed to Tiffany I thought it was from the doctors about her jags, but then I saw it was a notice from the Scottish Court Service saying she had to fill in her details or get fined £200.
"I don't have a clue why she ended up on their list. We've just moved from Gorebridge and when I went to pick up my post from the old house last week, the letter was waiting.
"I'm not sure how long it has been there, but if it's more than seven days, I don't want to be paying a fine, obviously."
She added: "I've never been asked to do jury service before, so it's slightly amusing that my six-year-old has."
An SCS spokesman said householders are only asked to provide names of people living in their home who are aged 18 or over.
He said: "The SCS uses the information to determine who might be eligible for jury service.
"This is currently done by issuing a notice to get information on whether the person is eligible as a potential juror.
"Information sought by the notice includes date of birth. This ensures juror citations are not issued to anyone under the required age."