New non-stop flight route links Edinburgh with Toronto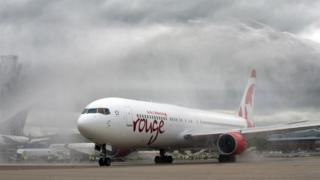 The only non-stop flight linking Edinburgh with Canada has been launched.
The route between the Scottish capital and Toronto is being operated by Air Canada rouge.
The airline will operate three flights a week and the new route will add to the £83m spend which Canadian tourists already generate for the Scottish economy.
It has been welcomed by VisitScotland Chairman, Mike Cantlay.
As the first flight from Canada arrived in Scotland, he said: "The launch of this new direct route is an amazing moment for Edinburgh in what has been a long and important relationship between Canada and Scotland. With this new direct route another part of the network jigsaw is complete.
"Canadians have always had a strong affiliation with our country and, as we prepare to welcome the world with Homecoming, the Glasgow Commonwealth Games and the Ryder Cup in 2014, the timing of this new service is perfect."
Air Canada rouge is the new budget leisure subsidiary from Air Canada and operates a fleet of Boeing 767-300ER and Airbus 319 aircraft.
Michael Friisdahl, president and chief executive officer of Air Canada rouge, said: "We are excited to launch this new route between Toronto and Edinburgh, which marks one of our first three flights from Canada to Europe."
Trade links
Gordon Dewar, chief executive of Edinburgh Airport, said: "We're delighted to welcome Air Canada to Edinburgh Airport and we are sure they'll have a very successful summer. This new direct service from Toronto to Edinburgh is yet another example of how we listen to our customers and work hard to ensure they have the best choice of routes possible.
"Edinburgh Airport is where Scotland meets the world and it's hugely exciting to now offer a direct service to Canada which I'm sure our Canadian and Scottish passengers will take full advantage of. Toronto is an important international hub for us and this new route will allow us to establish and maintain crucial trade links for both economies."
VisitScotland markets Scotland extensively to Canadians and has operated sales missions to Toronto and Montreal. A recent competition saw 4,500 Canadians entering to win a dream trip to Scotland.
In September, VisitScotland will be taking part in Destination Britain North America in Las Vegas. Organised by VisitBritain, the event will see VisitScotland staff meeting with Canadian and American tour operators, promoting exciting Scottish events such as the Year of Natural Scotland, Homecoming 2014, the Glasgow Commonwealth Games and the Ryder Cup at Gleneagles.
Tourism is of crucial importance to the Scotland. The industry employs 270,000 people in 20,000 businesses and contributes £11 billion annually to the economy. Almost 16 million tourists take overnight trips to Scotland.
Canada is one of Scotland's largest international visitor markets, with more than 100,000 visits made in 2011.